WHY WE PROVIDE THIS SERVICE
Many reasons, here are some:

These groups are filling a huge gap in services for those with a disability of any form.
When a person has a disability, the world is suddenly a different shape, a different place.
Each person has to learn to negotiate the world again. The way in which friends, work colleagues, even family perceive this change can make a person feel alienated, overwhelmed and alone.
We offer a service that is there to enable a person to take charge of themselves once again.
We work with the body to encourage strength, to find ways to relax and to find ways to feel that life has possibilities and purpose once more.
Physical exercise is a vital part of this and a dynamic way to deal with and cope with physical and psychological problems.
Yogamobility gives people a chance that is not available in the public domain to learn new skills, while developing mobility and strength in a safe and happy environment.
We use yoga as the main form of exercise and philosophy as it can be developed and adapted to the needs of anyone, whatever their abilities or disabilities, to improve the body and the mind.
These practices have practical ways to encourage confidence, empowerment and new abilities, whether you can move only one finger or whether you can stand upon your head.
When a person enters these groups they are included immediately, made at home, and helped towards happiness on many levels.
YogaMobility aims to:
Promote, improve and protect good health and well-being through the practice of yoga
Assist in the treatment of adults with physical or mental disabilities by providing yoga to disabled people, their carers and families
Advance the education of the public in yoga
Offer yoga-based practice in a safe place where the teacher has the training, support, and appropriate equipment to work with students in a meaningful way.
Provide a place where someone's disability is not seen as a disadvantage when trying to take part in exercise and the expression of self.
Teach students how to exercise within their own capacity, and help them to realise that anyone can exercise, whatever their problems.
Establish the principle that everyone learns as a student and not as a patient.
Develop skills which relax the mind, increase breathing capacity, and help to develop a positive personal philosophy.
Advise how to eat well, to relax the body and say "Yes" to life rather than be held down by a diagnosis.
Teach coping skills for pain, so that a student can live a better and more fulfilled life
Offer a new outlook and new friends, who share experiences as a way of helping themselves and others.
Give help and encouragement to those newly-diagnosed with any form of disability.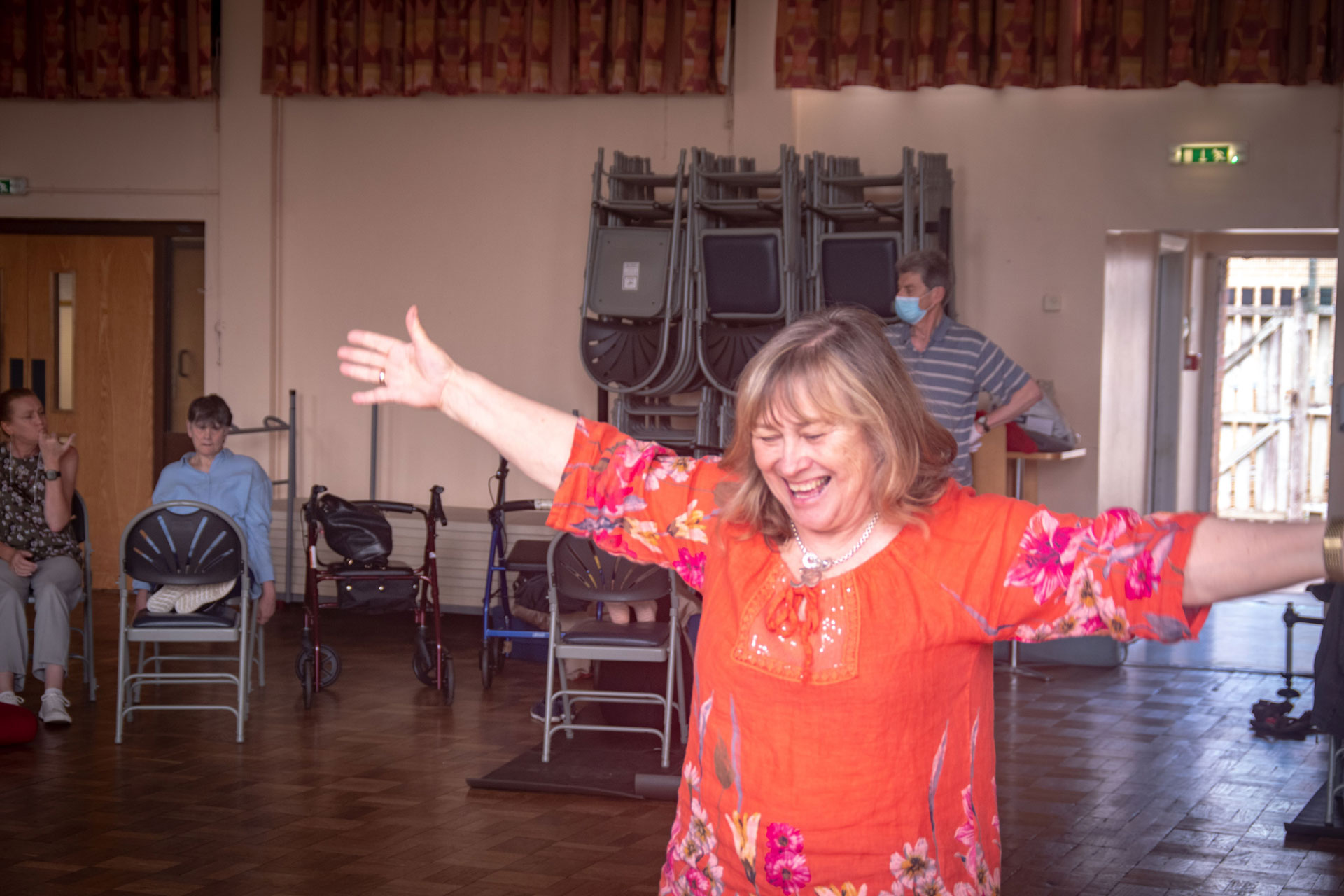 Mary Madhavi
Mary is the Founder & driving force behind YogaMobility and is an intuitive yoga teacher.
Through her vast experience of yoga spanning over 40 years, Mary is now internationally renowned.
In this time she studied extensively and continuously with her teacher the late Philip Jones, who shared the work of Swami Gitananda. Mary has also trained with Alan Babbington, becoming an Albion Yoga Teacher; with the Sivananda Organisation in Canada, where she gained an Advanced Teacher Training Certificate; and with the inspirational Swami Indrananda Ji.
She has studied widely with the British Wheel of Yoga and now runs seminars for them. Her studies are ongoing with the Bihar School, all this giving her an eclectic and sensitive approach to practice.
She is a Craniosacral Therapist, Group Work Facilitator, and Counsellor.
Mary is dedicated to sharing yoga as a way of life and her work encompasses a dynamic and grounded approach to yoga and meditation practices.
Her sessions are infused with her loveable personality, joy for life and her warm acceptance of everyone.
All aspects of yoga are encouraged including Dynamic Asana (exercise) relaxation, Yoga Nidra, meditation, philosophy and chanting.
After a serious road accident, Mary learnt at first hand the power of yoga by overcoming her disability against the odds.
This has enabled her to inspire and help teachers and students alike to use the amazing power of classical yoga to invigorate their lives, with this powerful, transformative and heart opening practice.
Mary also runs yoga classes, day courses and retreats for able-bodied people of all levels of ability.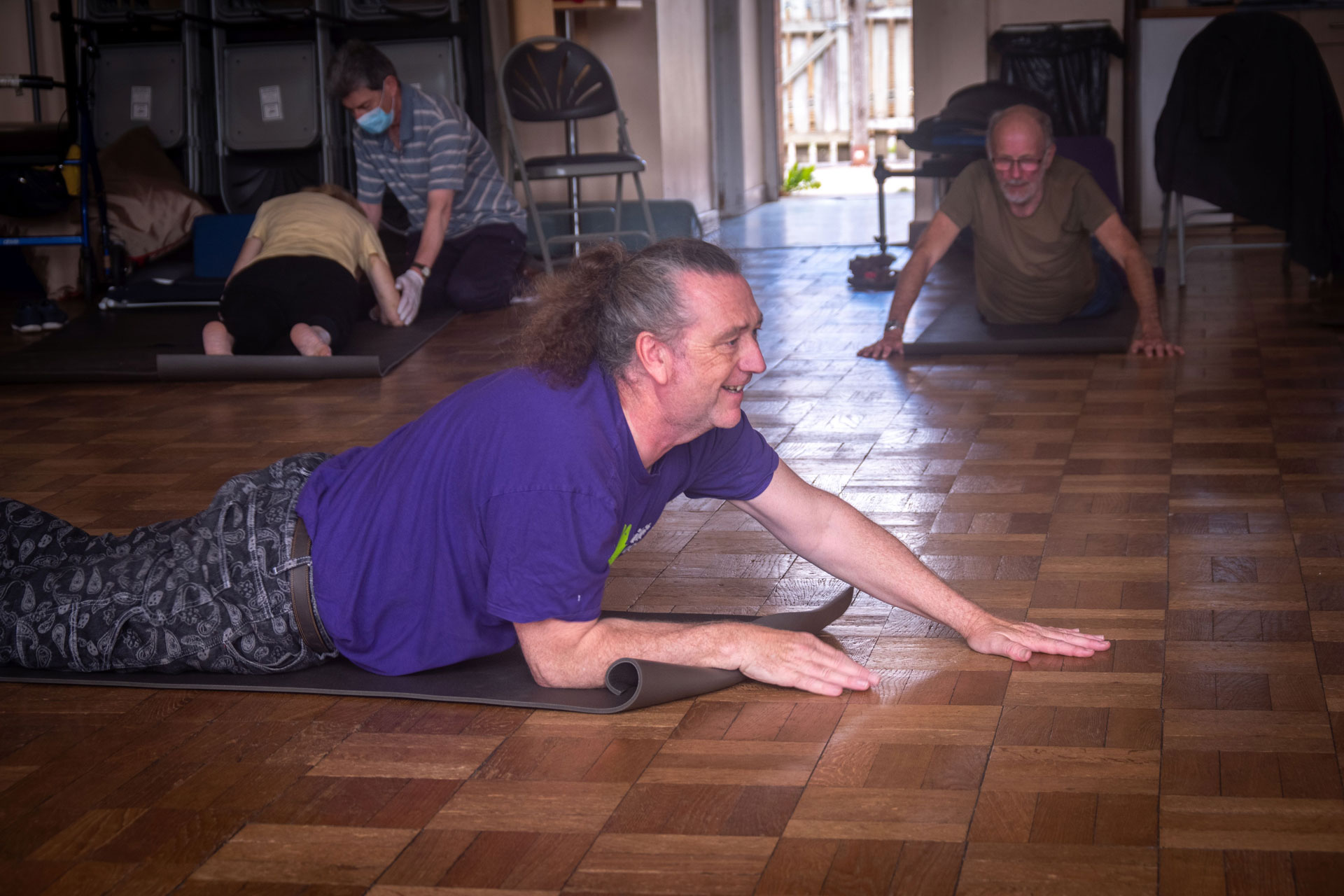 Jason Riseborough
Yoga Teacher -Yoga Exponent for Disabled People – Hypnotherapist & Counsellor
Jason had an accident in 1993 which focused his mind on finding a better way to live and approach his life. This search brought him to Yoga with Mary Madhavi in 1996, an encounter which changed his life for the better in every way.
From this beginning he eventually decided to become a yoga teacher and share how this practice had changed his life.
When he met Mary Madhavi he was interested in her approach to yoga and especially in the way she worked with disabled people. He decided to join her team and began as a volunteer, working and studying. He later became, with Mary, the joint leader of YogaMobility.
Jason has trained and taught dedicatedly with Mary Madhavi over the past fifteen years. He has studied extensively with Swami Indarananda of the Patanjali School of Yoga and has Teaching Diplomas with the British Wheel of Yoga and Sivananda Yoga. He is also a Hypnotherapist and Counsellor.
Jason says that yoga has given his life meaning, having realised that everything that happens has a purpose. Yoga has helped him maintain his body, which is still painful after his accidents. Yoga is a way of being, a way of life, for him.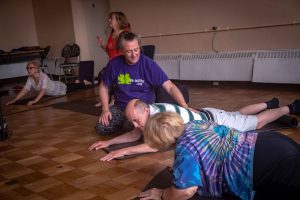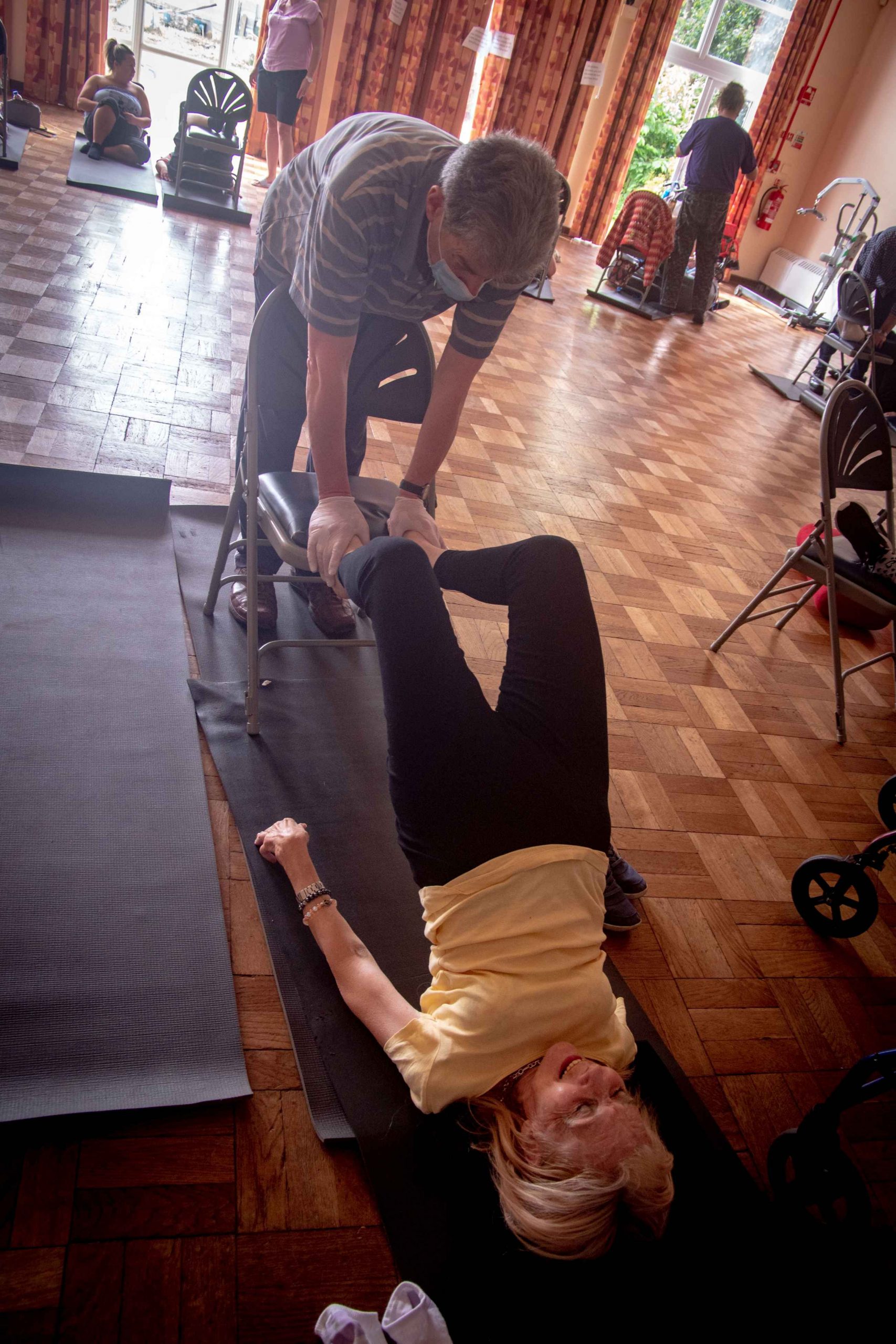 Journey with YogaMobility – A short video
Narrated by our now sadly departed dear friend John Lark
Trustees
Tim Watkins     (Chairman)

Freda Young    (Treasurer)

Nick Howitt

Jodie Hill

Jude Bryant-Plenty

Peter Marshall

Liz Grimshaw
Tutors
Mary Madhavi (Founder & Tutor)
Jason Riseborough (Tutor)
Annual Accounts and Report
YogaMobility submits copies of its annual accounts and annual reports to the Charity Commission.
However, because it is a small charity, they are not freely available on the regulator's website.
If you wish to see our accounts please send an email to info@yogamobility.org and mark it for the attention of the Treasurer.
YogaMobility is a Charitable Incorporated Organisation registered in England and Wales (1137754). All official communications can be sent to the registered office address at 18 Fairfield Close, Cardiff, CF5 1AD.